The Wiggles

'

Origin

Sydney, New South Wales, Australia

Debut Album

The Wiggles (1991)

Debut Song

Get Ready To Wiggle

Years Active

1991 - present

Genre

Children's Music

Members

Anthony Field

Past Members

Greg Page
Murray Cook
Jeff Fatt
"The Wiggles" are a famous children's band from Australia that formed in the year 1991 when founder, Anthony Field, "had the idea to make a children's album". They are the four (originally five) main protagonists in videos and TV series. The original line-up was Anthony Field, Murray Cook, Greg Page,and Jeff Fatt
This name was inspired by bowlers who wiggled their hips at bowling.
1997 - 2006,
Edit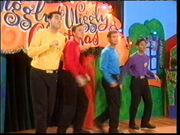 The Wiggles once Phillip left. This is the era many people think about when The Wiggles are mentioned and most people who grew up with The Wiggles grew up with this era, as it lasted the longest (so far), and is when most of what we know about them today came about (outfits, logo, characters, etc.)
The first Wiggles logo was just "The Wiggles" typed out in a specific font, and it was used from their first album until late 1996. By this time, the logo was redesigned with wiggly letters out of colours and with a yellow background (pictured), which is still used today.
The word 'The' is colored red, the 'i' 's tittle (dot above lowercase letter) is green, the 'L' is purple and leaving the other letters blue. However, in Wiggly, Wiggly Christmas the I is purple on the title screen.
The Main Wiggles
Edit
Community content is available under
CC-BY-SA
unless otherwise noted.